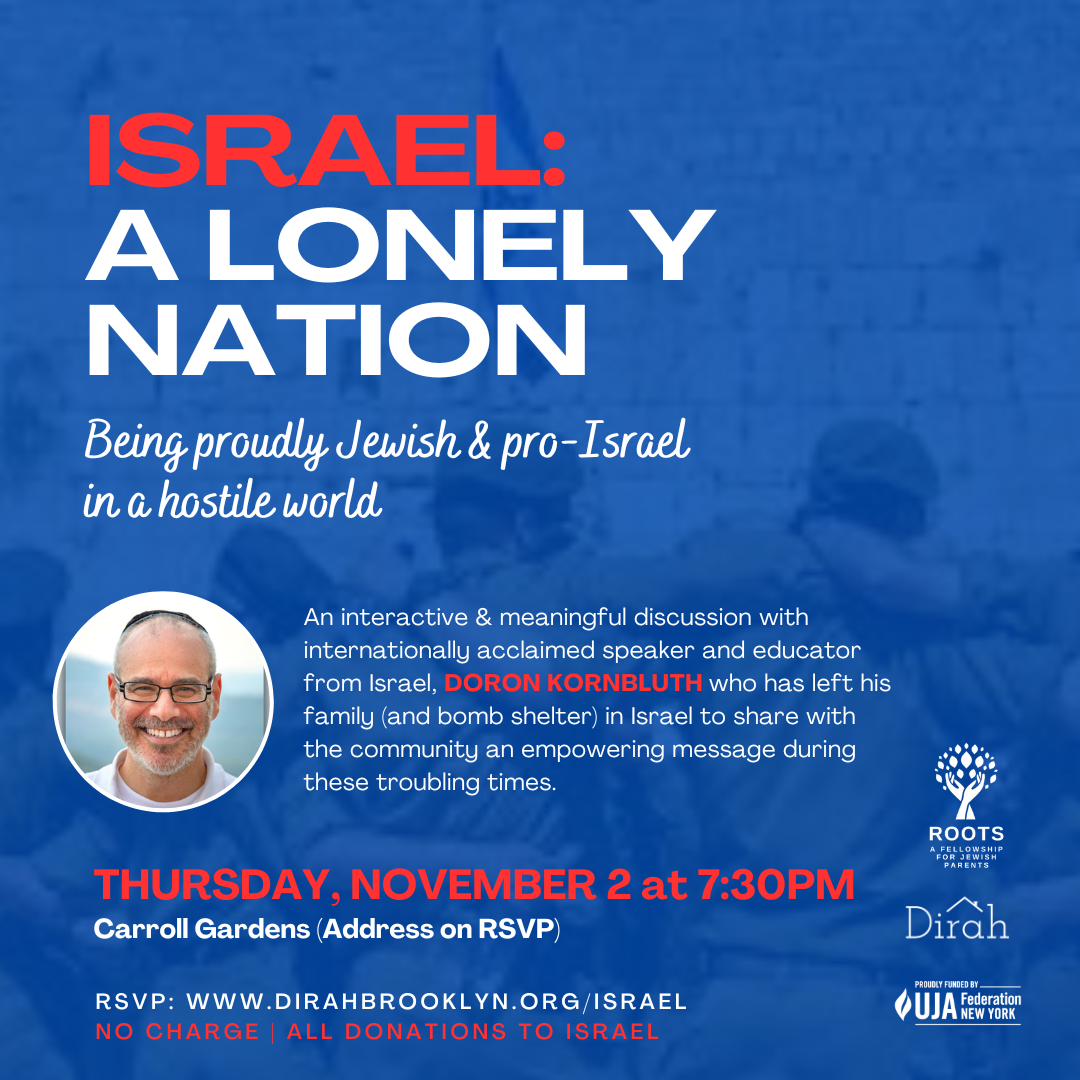 The past few weeks have been draining and exhausting. On top of all the horrific news from Israel, the scenes that have emerged in our own backyard, here in the USA, have been terrifying.
We've seen protests calling for the destruction of Israel and death to Jews. We've seen glorification of Hamas and the atrocities it committed on college campuses. We've seen the biased reporting of mainstream media.
We have friends who have been silent and haven't reached out - or worse, have posted hurtful things. Schools and companies have sent out letters that whitewash the heinous atrocities committed by Hamas. Kids have been exposed to hate and propaganda on social media.
For so many of us, it has never felt more lonely to be a Jew. And for many parents, it is more difficult than ever to foster in our children Jewish pride and support for Israel.
Join us on Thursday, November 2, to be together and to hear from a guest speaker from Israel, Doron Kornbluth, on being proudly Jewish and pro-Israel in today's environment - and raising children to be the same.
Doron is travelling from the front lines in Israel to share an empowering message with the community during these troubling times.
Israel: A Lonely Nation
November 2 at 7:30pm
At a home in Carroll Gardens (address provided on RSVP)
No Charge | Donations Welcome | Proceeds will go to Israel
About the Speaker
Doron Kornbluth is a bestselling author, internationally renowned speaker, and the co-Founder and co-Publisher of Mosaica Press. He resides in Jerusalem with his family.
When
November 2nd, 2023 10:00 AM
Location
Private Home in Carroll Gardens
Address provided upon RSVP
Optional Donation
I'D LIKE TO HELP SPONSOR
$180
$540
$1000
Other Amount